Dawn Honeycutt – "All I ever wanted to do was empower people."
Transitions EAAT is a Christ-based ministry dedicated to the physical, mental, and social
development of military veterans, children and adults who have special needs AND their families. Transitions EAAT offers therapeutic contact with a horse in a safe and inclusive environment.
We are a private, federally registered 501 (c) 3 non-profit that does NOT receive ANY money from ANY Government agency. Our founder and president, Dawn Honeycutt, has 40+ years of
experience working with horses and received her certification as a trainer from PATH, INTL. As the mother of two children who have special needs and the wife of a husband who has brain damage she personally knows knows the benefits of equine therapy.

Want to introduce someone to Transitions EAAT but aren't sure how? We've developed the  following booklet to help easier tell people about us: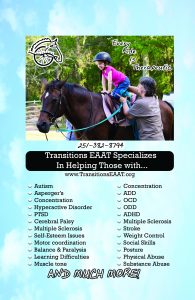 Click Here or on the Flyer Above
Our founder and president, Dawn Honeycutt, has worked with horses and riders for 40+ years and has competed at the Prix St. George Level in dressage.  She has Graduate level work as a substance abuse counselor and is the loving mother of two special needs children and the caring wife of a husband who is disabled due to brain damage.
---
 DONATIONS to Transitions EAAT and PAINT PARTY Payments

To Learn More about the Paint Party at the Barn on October 26th click the photo below.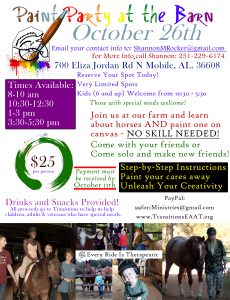 Can't seem to find a stamp? Donate to us or make a Payment for the upcoming Paint Party online.

If you'd like to donate material goods to us send us an email or call Pastor Lonnie and he'll arrange to have your donations picked-up.
If there's a special project you'd like to contribute to simply place the general description in the Memo Field and, if we have any trouble figuring it out, we'll call you. If you're paying for the Paint Party you can simple put 'Paint Party' (or if that's too much for your fingers… just PP).

Otherwise, you can simply leave the Memo Field Empty or list 'General Fund' and we'll use your donations wherever we think they'll benefit the most.
Again, if you would like to give to our ministry…


PLEASE

send your Tax Deductible donations to:

Transitions EAAT
P.O. Box 180932
Mobile, AL. 36618
or CLICK THE FOLLOWING DONATE BUTTON
You'll see that your donation is going to 99 for 1 Ministries
(this is our parent organization – originally started in 2010!)

---